Turning Waste Paper Into
Cellulose Insulation
Fiberlite recycles tons of waste paper daily, turning it into an amazing array of cellulose insulation products to improve the energy efficiency and comfort of homes and commercial buildings for the people who occupy them. Let us help you insulate to save money on your utility bills and make your home or workplace more quiet and comfortable.
Retrofit
The Department of Energy estimates there are millions of homes in the U.S. that are under insulated. If your home is not providing you with the comfort and energy savings you expect, you may not have enough insulation. Without the proper amount of insulation, you may quite literally be losing money through the roof. The most cost effective way to reduce your monthly utility costs is to add Cellulose Insulation in the attic and walls.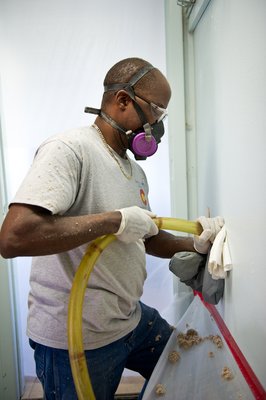 Whether your house is new or old, you should check to see if there is enough insulation in the attic. Do not assume that a recently built house is energy-efficient. Building codes in many areas do not require insulation levels that meet the recommendations of U.S. Department of Energy. To determine how much insulation you should have, check out this helpful tool provided by the Department of Energy: http://www.ornl.gov/~roofs/Zip/ZipHome.html. Then, you can enter your attic's current R-Value and the target R-Value on our Savings Calculator to determine how much you could save by adding Cellulose Insulation to your attic.
In addition to upgrading attic insulation, an existing home may benefit from adding insulation into the walls. Cellulose Insulation is the perfect solution. It may be added to walls without the need for a costly renovation of the interior wall finish. It is simply blown into the wall cavities through small holes, which are easily plugged or patched.
While insulation is the single-most important component in achieving home energy-savings and comfort, many other factors can lead to excessive energy consumption. A whole-house energy audit may be performed, including infrared imaging and air leakage testing to determine what solutions may be best for your home.
Proper installation is crucial to achieving optimal energy savings by adding Cellulose Insulation. Experienced insulation contractors have the knowledge and skill to do the job right, providing you with savings and comfort for years to come. Contact us for a professional installer in your area.