Fiberlite SATAC Perfect For Insulating Commercial Buildings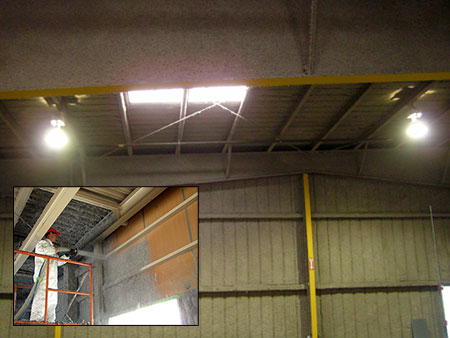 Spray Applied Thermal Acoustical Cellulose "SATAC" is the perfect product for commercial spray applications. It's one of the few cellulose insulation products designed specifically for applications such as insulating garages, warehouses and gymnasiums.
Any building that would require the insulation product be exposed could be a suitable application for "SATAC." This product meets different ASTM standards than traditional residential ASTM. As evident by its name, it is excellent for acoustical control.

This product is sold in several different colors as shown to the left. Each color offers the same benefits so the only difference is customer preference.
Customers rave about the sound control that this product can offer. Since the insulation product is exposed, it is easy for sounds to bounce off different surfaces throughout the building. "SATAC" will absorb the sound waves.
Like any residential cellulose insulation product, SATAC is a Class 1 Building Product. It exceeds these ASTM standards and meets a variety of additional ASTM standards specifically for open and exposed areas. FTI attains these higher standards by manufacturing this product through a proprietary blend of fire retardant ingredients.
Learn more about SATAC or contact us to find product and installers.