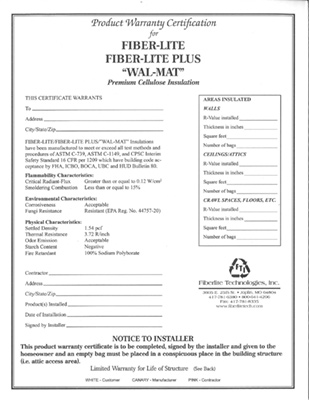 FTI has manufactured cellulose insulation since 1985 and we backup years of experience with an industry-wide best warranty for our flagship products.
We pride ourselves on manufacturing a quality product and are confident that both insulation installers and homeowners will appreciate its benefits. Our products meet a variety of testing criteria including fire resistance, R-Value, fungus resistance and many more. We have surpassed industry standards and demonstrated that our flagship product, FIBER-LITE, was tested and shown to actively kill mold spores in scientific experiments.
We are so confident about our products that we offer product warranty certificate for FIBER-LITE, FIBER-LITE PLUS and WAL-MAT. This certificate states that we will support the product for the lifetime of the building structure. This certificate is transferable to new building owners as well. Very rarely are building products supported by such a guarantee, but FTI strives to provide the best insulation product available.
If you are interested in a product warranty like the one above, ask your contractor if they use FIBER-LITE, FIBER-LITE PLUS and WAL-MAT. They can provide you with a copy of the certificate to added confidence that you have the best insulation product available. Download a copy here.
Contact us to learn more about our products and warranties.