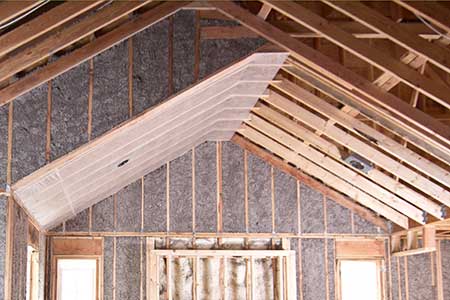 Cathedral ceiling construction is more susceptible to moisture damage than open attic construction. The construction of a cathedral ceiling creates air spaces in rafter cavities. Filling the cathedral ceiling with FIBER-LITE Cellulose Insulation is a very effective way to block the air movement.
Application Procedure
Dry Pack:
Construction of a barrier by using reinforced poly webbing (spray mesh) or sheetrock is required. FIBER-LITE Cellulose Insulation is applied by inserting the hose into the cavity starting at the top to about 12″ to 18″ from the soffit area. The material is blown into the cavity at a density of 3.0 lbs./ft.3 or greater. As the material slows almost to a stop the hose is extracted and the procedure is repeated until the cavity is filled. We recommend the dry pack procedure for residential construction.
Spray Applied:
The procedure is much the same as cavity spray for walls except a liquid adhesive must be used to retain the FIBER-LITE Cellulose Insulation in the cavity. Encotec 10X Adhesive is used with the following water to adhesive dilution ratios:
6″ to 8″ – 6 to 1
8″ to 10″ – 5 to 1
10″ to 12″ – 4 to 1
After the FIBER-LITE Cellulose insulation cures, the sheetrock may be installed. We recommend the spray application on metal roof systems.
Scientific research has found the use of vent chutes is not necessary when cellulose insulation is properly installed.