SATAC SYSTEM Perfect Insulation For Exposed Applications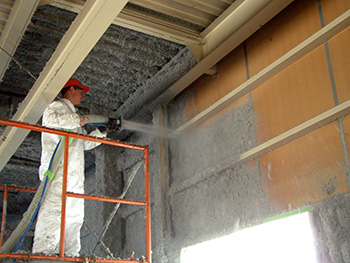 Commercial buildings, where an exposed insulation application is required, present special challenges for architects and builders. Buildings such as gymnasiums, parking garages and warehouses are prime examples where insulation is often either omitted altogether or improperly applied for ineffective results.
The revolutionary SATAC SYSTEM from Fiberlite Technologies (FTI) offers the prefect solution where an exposed insulation is required. SATAC is a spray applied cellulose insulation. The Class 1fire-rated product uses high-bonding Encotec adhesives that allow the insulation to be applied to metal, concrete or wood. The SATAC SYSTEM adheres to surfaces providing a seamless layer of thermal protection and condensation control. In addition, it offers highly efficient sound absorption.
It can even be used over foam insulation to provide a highly effective ignition barrier. This can be done by design or as a retrofit in buildings where highly flammable spray foam insulation has been left exposed.
SATAC SYSTEM should be installed by a qualified professional insulation contractor familiar with the application process. To learn more about how to insulate commercial buildings were an open application is required using the SATAC SYSTEM, or referrals for qualified contractors, contact FTI.