Tips For Making Your Home Winter Ready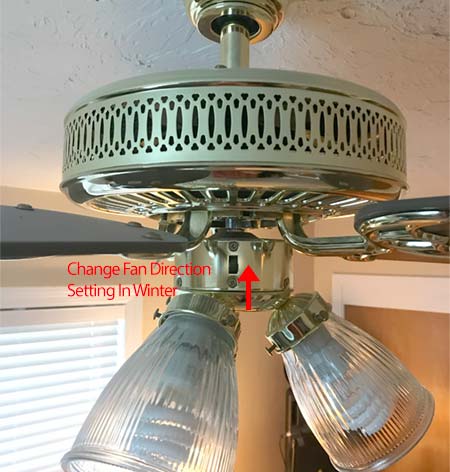 Cold winter weather has started to descend across regions of the U.S. as the holiday season approaches. With the drop in temperature outdoors, some may experience the cold inside their homes and recall discomfort last winter. Here are a few "gifts" homeowners can give themselves to improve their living environment this winter and beyond:
1. Change The Heater Filter
This is the easiest way to improve indoor air temperature and quality: changing the heater air filter. A dirty heater return air filter can cause inefficient heating in a home. The filter typically needs to be changed between 30 to 90 days depending on the type used, and how much demand and air is run through the system based on the temperature setting. It is also important to check the grate on the return air vent and clean it free of all dust.
2. Reverse Ceiling Fans
This is another very easy one that homeowners can do in a few minutes. Ceiling fans typically have a switch on the motor housing to change the direction of the blades. Usually the switch is set to force air down with the blades turning counter clockwise (most fan direction switches turn this way when in the down position.) Changing the switch to turn the blades clockwise in the winter, and keeping the fan on a lower setting, will move heat rising in the room back down and circulate more warm air through the room.
3. Seal The Home Envelope
Although there is a bit more involved than preparing to send a letter, this is also one of the easiest ways to make a house warmer and most homeowners can handle the task as a DIY project. Here's how to help keep cold air from entering a home:
Caulk – Add or replace the caulk around the exterior of all windows and doors. Use a high quality exterior acrylic caulk product to fill any cracks, gaps or voids. Once way to check for air leaks around windows is to turn off the heater, turn on all exhaust fans and vent fans, then hold an incense stick near each window and doors. The vents will cause negative pressure drawing air and smoke from the incense where there are any leaks.
Weather Stripping – For doors, also look under and around all exterior doors where they meet the frame. If light is visible air is also coming through. Add or replace the weather stripping and consider a "door sweep" to block air at the bottom.
4. Have Heater Serviced
If the home heater is older, or has not been serviced in a few years, it may be worth the expense to call a professional HVAC repair company and have the system serviced. Like any other mechanical system, an ounce of occasional maintenance service can be worth a pound of cure if the heater goes out in the midst of a winter storm. Be sure to check references when choosing a service company.
5. Check Attic Insulation
In most cases, homeowners can easily check their attic insulation. Provided there is an attic access door and enough headroom to get a clear view of the insulation, a quick visual check can reveal if the insulation needs topping off or replaced. Learn how here. Cellulose insulation is the best product for adding insulation to the attic. It can be blown in over most any existing insulation. This can be a DIY project for those more handy homeowners; but in most cases it is best to get a professional insulation contractor experienced with cellulose products to achieve the most efficient return on the investment. Although this will be more costly than the simpler steps above, it can also provide the biggest improvement to interior living comfort and savings on home heating bills for years.
Fiberlite has several products that are perfect for attic insulation projects. Contact us for more information and contractor referrals.