LATEST NEWS
Cellulose Insulation Environmental Product Declaration
CIMA Releases

First-Ever EPD On Loose-Fill Cellulose Insulation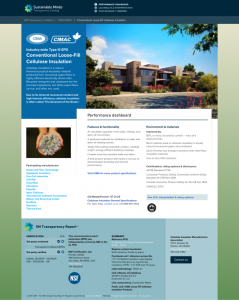 Fiberlite Technologies is pleased to share the news about the first-ever Environmental Product Declaration (EPD) announced recently by the Cellulose Insulation Manufacturers Association (CIMA.)
CIMA, CIMAC (Canada) and Sustainable Minds, a leading provider of products and services to facilitate environmental product transparency, collaborated to produce the declaration. An EPD is an independently verified and registered document that quantifies environmental information on the life cycle of a product to enable comparisons between products fulfilling the same function. Cellulose insulation, which is produced in energy-efficient electrically-driven mills from recovered newsprint, cardboard, and other paper fiber materials, has long been recognized as one of the most environmentally sound building materials. The EPD provides independently verified data to aid buyers and specifiers in evaluating the environmental impacts of cellulose insulation.
Fiberlite has been a producer member of CIMA for many years. The company has had representatives lead the Association including most recently FTI President Shan Maitra, who is the CIMA Immediate Past President. Shan and FTI, along with several other officers of CIMA and producer member companies, joined in the effort to bring forward the EPD.
Find out more about the work Sustainable Minds is doing and download a copy of the EPD.