Fiberlite Increases Production Capabilities
Fiberlite Tech Completes Plant Expansion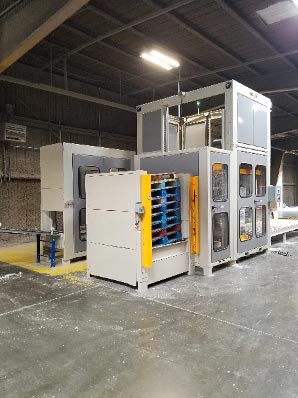 Plant Expansion Equipment
Fiberlite recently completed a major expansion at its plant in Joplin, Missouri. This project involved adding several pieces of new equipment and updating aspects of its current manufacturing.
"One of the goals we set for our new General Manager, Patricia Grubb, when she was appointed in 2019 was to complete our first major plant expansion in several years," said company president Shan Maitra. "Pat met the challenges of this project, in the face of a world-wide pandemic crisis, head on and completed the expansion on time and within budget."
The project was completed in June with the hard work of several consulting engineering firms and the entire FTI team. Grubb said the expansion increases production capacity for several key Fiberlite cellulose insulation products.
"Now that the project is completed, FTI can double its production capacity and also improve the quality of products," said Grubb.
Maitra said FTI, in business since 1974, and has always maintained a long term strategy for growth and innovation. Although times are currently turbulent, FTI anticipates the growth of cellulose insulation in the future.
"More and more individuals appreciate the unique benefits of cellulose insulation for its superior energy efficiency because it effectively seals all gaps and voids within a wall," said Maitra. "Cellulose insulation is made from recycled materials and requires minimal energy to produce, appealing to many Eco-conscious consumers. The product is also highly fire resistant."
One of Fiberlite's products that will benefit from the plant expansion is its innovative FTI-2H Firewall. The cellulose insulation product provides a full two-hour fire rating for even greater fire safety in homes and buildings.
Learn more about all the products offered by Fiberlite Technologies.