Optimum Value Engineering and Cellulose Insulation
Building experts have performed considerable research on ways to reduce the amount of framing in our homes.  The U.S. Forestry Products Association and other organizations have devised a framing system using Optimum Value Engineering (O.V.E.) that reduces unnecessary framing, yet maintains structural integrity.  The goals of O.V.E. are to:
Reduce framing time and lower construction costs
Save on increasingly scarce dimensional framing lumber
Increase energy efficiency allowing more space for insulation and reducing annual energy costs
Many builders have been resistant to adopt O.V.E. practices due to concerns about compromising structural integrity.  With quality installations, the home's framing strength should not be altered by O.V.E.   Approaches include:
Less corner framing
Less framing around partition walls
More energy-efficient headers
Eliminating curtailed studs (cripples)
Using single top plates via point loading
Insulation Voids                                 3%                                        0%
Framing Factor                                   15-25%                                10-15%
Sheathing R-Value                             R-0.5 to 2.0                           R-2.5
Effective Average R-Value                R-11.1                                   R-14.6 (30% higher)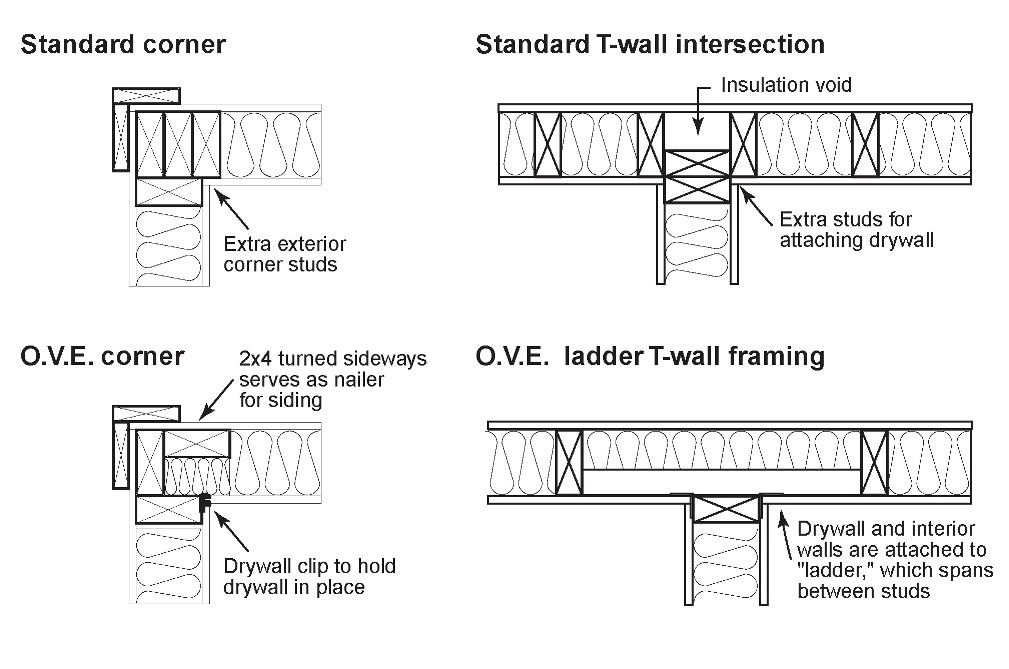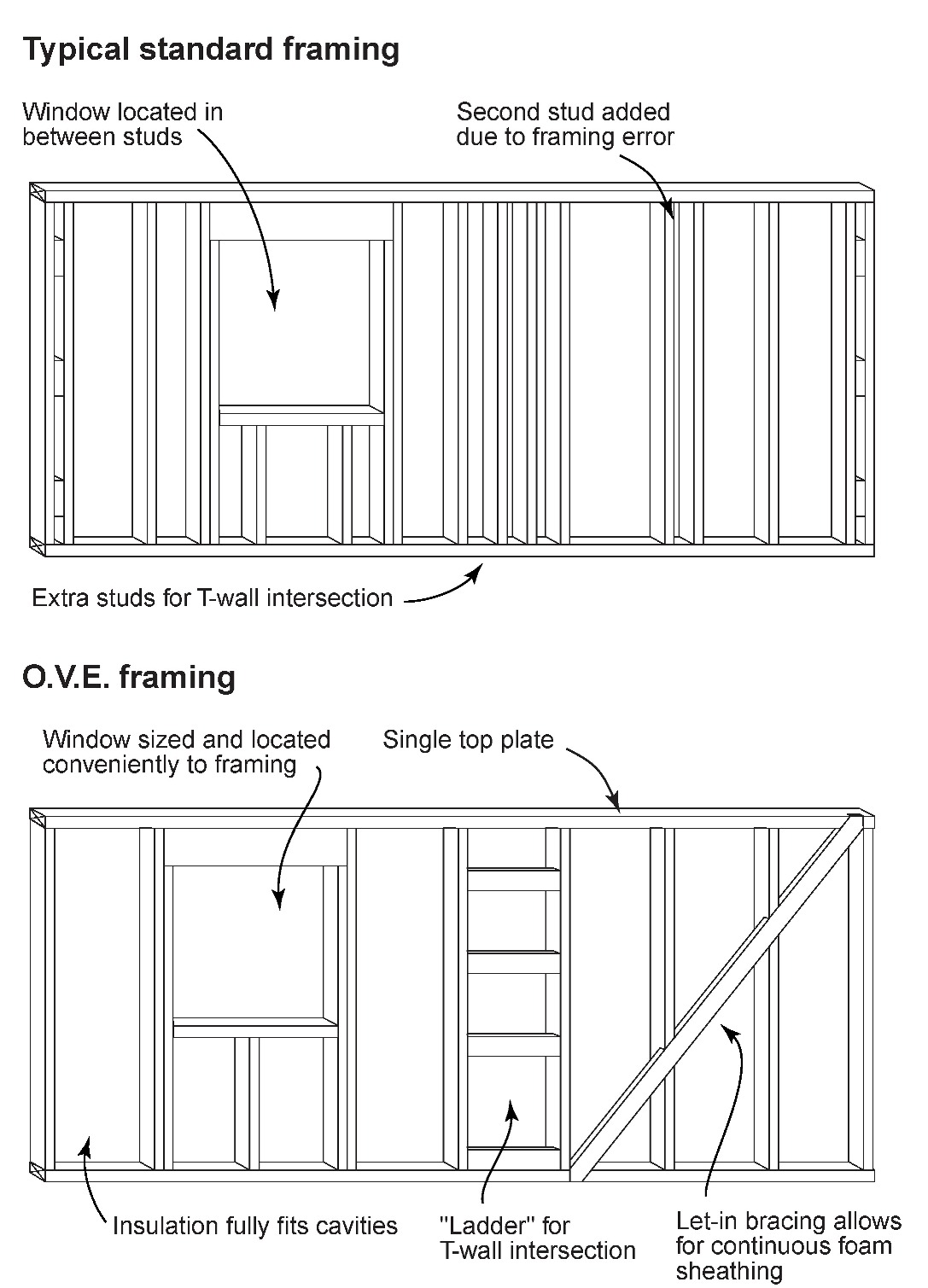 Walls are the most complex component of the building envelope to insulate, air seal, and control moisture.  The keys to an effective wall are:
Airtight construction-all air leaks sealed in the wall during construction and prior to insulation installation.
Moisture control-exterior rain drainage system, continuous air barrier, vapor barrier on the appropriate side of the wall.
Complete insulation coverage-O.V.E. framing to maximize insulation coverage, no gaps or voids in cavity, continuous insulated sheathing.
Cellulose insulation applied in the walls delivers maximum thermal performance by sealing all voids and gaps and virtually eliminates air infiltration.  While air sealing is imperative, controlling moisture improves the effectiveness of the insulation.  It is a myth that installing vapor barriers is the most important step for controlling moisture in the walls. Moisture moves in two ways:  air movement and diffusion.  By blocking the movement of moisture-laden air, cellulose insulation reduces moisture movement to manageable levels within a home or building.
There are many advantages in using the Optimum Value Engineering method and Cellulose Insulation.  Homes are more energy efficient and feel more comfortable.  The thermal performance of cellulose applied in the walls allows for a stable temperature.  The indoor humidity is also better controlled, and drafts are reduced.  They are also very quiet because the extra insulation and tight construction keeps the exterior noise out.
If you are building a home or office, consider using the Optimum Value Engineering method of construction and Cellulose Insulation!