It's Always
National Energy Awareness Month For Homeowners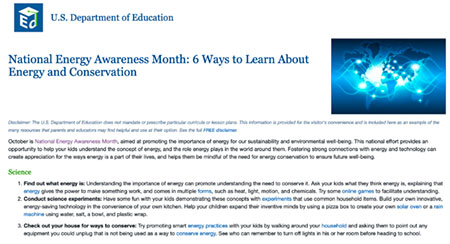 The U.S. Department of Energy(DOE) recognizes October as National Energy Awareness Month. The goal of this government initiative is a good one – promoting the importance of sustainability and the environment. The U.S. Department of Education embraces National Energy Awareness Month as an opportunity to help focus children and students on the importance of energy conservation. Their website lists six ways to help kids learn more about concepts of energy and conservation.
At Fiberlite, we know for homeowners every month is energy awareness month when the home energy bill arrives. It's the most common recurrent monthly bill for every household in America and in many cases also the most costly. Item number 3 on the Department of Education list suggests having kids looking around the house for ways of reducing energy consumed in their homes. Great idea for kids and also likely for their parents who actually pay those monthly bills.
It is also a good idea for parents to look inside the attic to determine if there is adequate insulation. That is where the most energy is typically lost in homes, which also drives up the cost of energy bills. Learn more about how to check your attic insulation here on the news blog. Then find the cellulose insulation product that is perfect for topping off the attic to conserve energy and reduce monthly energy bills.